PRIVATE WiFi installs in minutes and connects to
our secure server in seconds. And you can try it for free.
Three subscription plans.
We offer a number of subscription plans to fit every need, from road warriors to occasional public network users.
PRIVATE WiFi is a subscription-based service. Please choose one of the plans below. You can upgrade, renew, or cancel your subscription at any time. Just select Your Account in the PRIVATE WiFi taskbar icon.
PRIVATE WiFi is available for: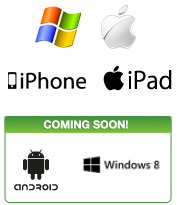 Money back guarantee.
PRIVATE WiFi offers a money back guarantee. If you are not satisfied with our product or our service, contact us at any time and we will immediately refund the unused portion of your subscription.
We accept all major credit cards and PayPal.
---
PRIVATE WiFi
Sorry we don't support your operating system at current time. Please contact support at support@e.privatewifi.com for more information.
Family Plans
Share your secure connection with your family and save.
Every additional subscription increases your savings-up to 27% off.
Users
Monthly
Annual
Your Savings
2
$16.52
$141.02
save 17%
3
$23.08
$197.08
save 23%
4
$29.65
$253.15
save 26%
5
$36.22
$309.22
save 27%

| | | |
| --- | --- | --- |
| Choose your Subscription | | Enter Number of Subscriptions |



Corporate Discounts
The more employees you protect, the more your organization save.
Users
Monthly
Annual
Your Savings
6-15
$7.46 per user
$63.71 per user
25%
16-49
$6.97 per user
$59.47 per user
30%
50-499
$5.97 per user
$50.97 per user
40%
500-999
$3.98 per user
$33.98 per user
60%
1000+
$2.99 per user
$25.49 per user
70%

| | | |
| --- | --- | --- |
| Choose your Subscription | | Enter Number of Subscriptions |