The same proven encryption
trusted by banks
and government agencies
PRIVATE WiFi is a Virtual Private Network (VPN) using 128-bit encryption, the same technology used by your bank or your credit card company. But we use it to secure everything you send and receive—web traffic, emails, and IMs.
PRIVATE WiFi works by creating an encrypted "tunnel" between your device and a secure server in another location. All of your data travels through the tunnel at high speed, invisible to anyone else who might be looking.
---
Serious privacy protection
By rerouting your data through an encrypted server in another location, you stay anonymous. No government, advertiser, website, malware, or hacker can track you.
---
Security you don't have
to think about
PRIVATE WiFi runs invisibly in the background while you browse the web or write an email. The software installs in minutes. Once installed and activated, it creates a secure connection in seconds.
It works just like the antivirus or firewall software you probably already have, only better. Every time you connect to the Internet, our patent-pending software detects if the network is secure. If the network is not secure, PRIVATE WiFi automatically activates itself, encrypting your connection. A taskbar icon lets you know that it's working.
---
Protect your privacy on any device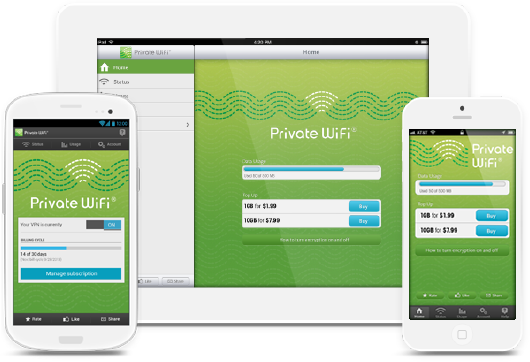 Compatible with

Laptops and Desktops
PCs with Windows XP, Windows Vista, Windows 7, or Windows 8.x operating systems.
Intel-based Macs with OSX 10.5 (Leopard) through the latest 10.9 (Maverick).
Tablet and Smartphones
iPhones, iPads and iPods running iOS5 or higher.
Android handsets and tablets running ICS (Ice Cream Sandwich) 4.0 and above.
---
Get real help from a real
person when you really need it.
We are committed to extraordinary customer service. That's why we offer live technical support to all users at no charge. Customer Support is available 8AM to 12AM EST Monday through Friday.
---
Server locations
Our world-wide server network is designed to provide good service wherever you are in the world. (Red icons indicate servers which are temporarily out of service for maintenance.)
---